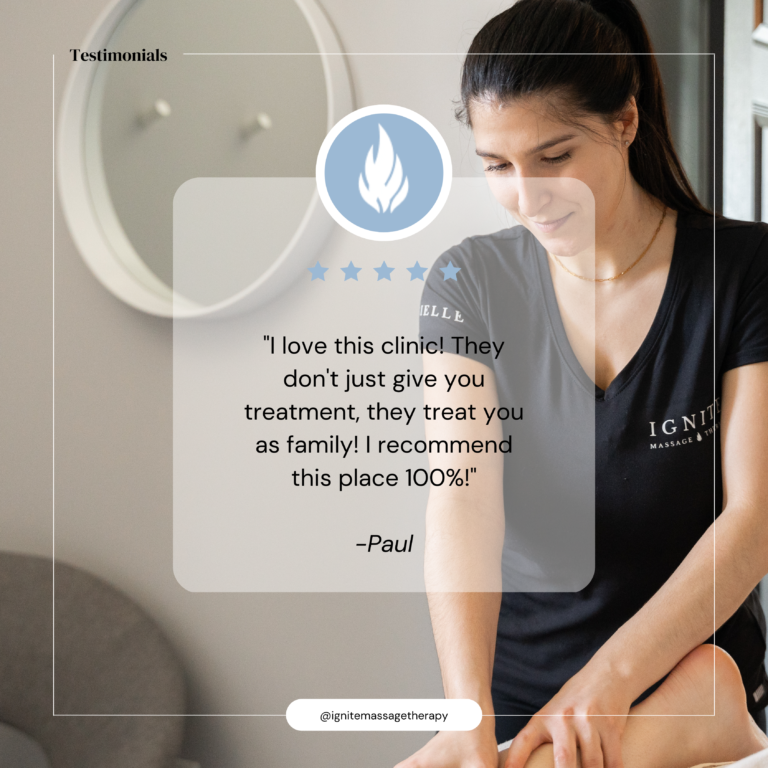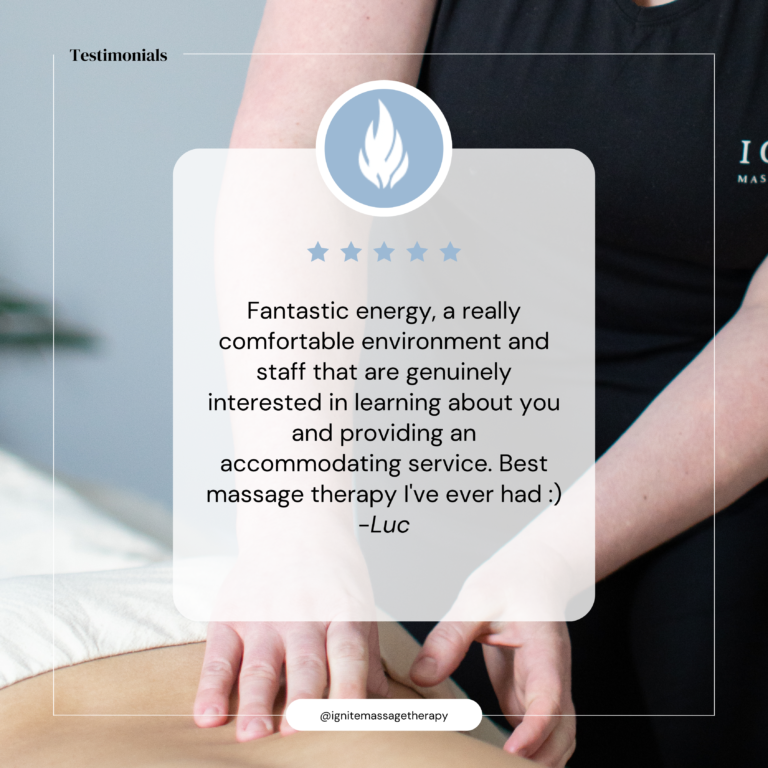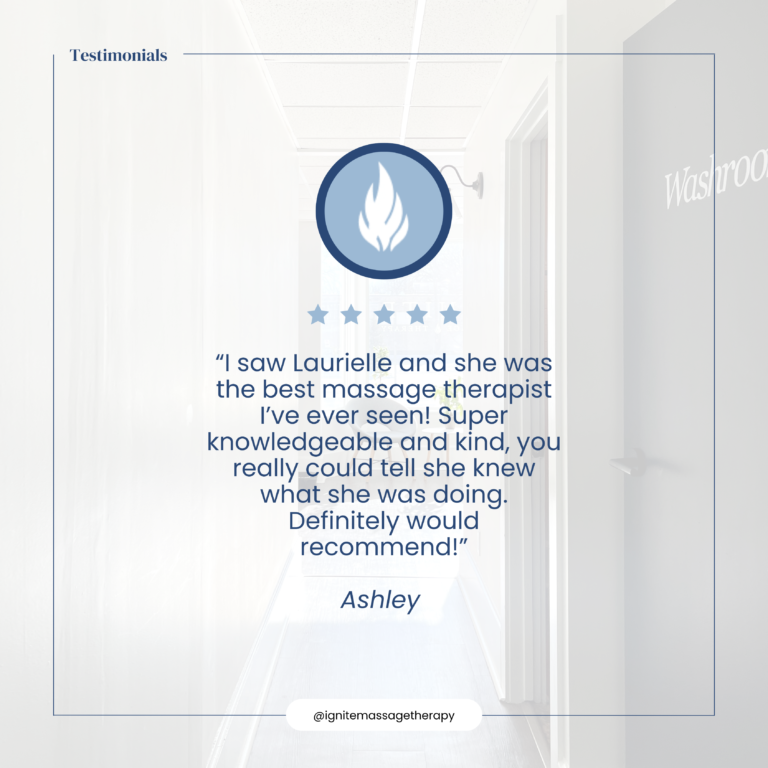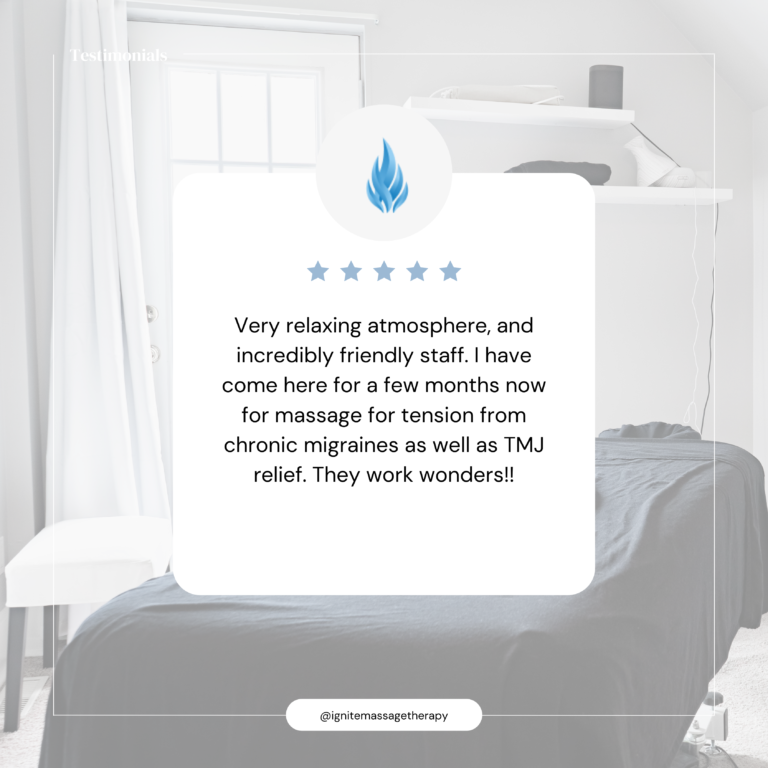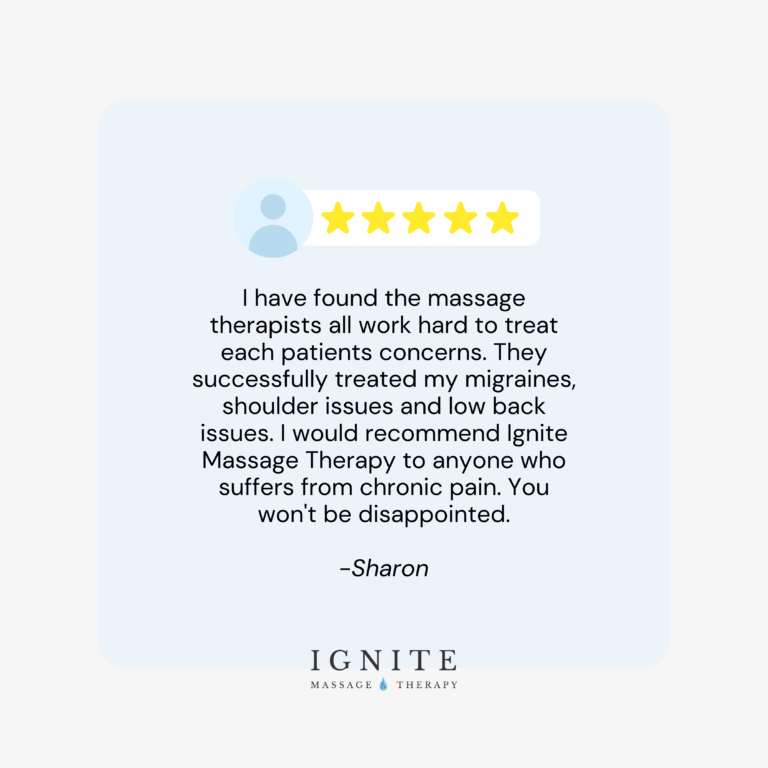 "I just had one of the most fantastic massage with Marie-Lou. I definitely recommend this place. I suffer from chronic pain in my feet, legs, hips, back, shoulders and neck, and it was probably the first time that I have received a massage that was relaxing while also actually being productive and working through things. I 100% recommend. Friendly people, clean and relaxing environment."
– Shane
"I've been seeing Laurielle for almost a year now and my overall experience there has been great. She really knows her stuff, and I always leave there feeling limber and pain free. I've had a bad back pain for many years (due to a slipped disc) and going to ignite has really helped manage that. On top of the massage therapy care, they do an awesome job recommending different exercises and stretches to do on your own to actually fix the problem rather than just deal with the symptoms. Definitely would recommend her and ignite to anyone."
– Andrew P.
"Marie-Lou is fantastic. She is a skilled massage therapist that assesses thoroughly to help solve the issues you may be experiencing to properly treat the problem spots. Would definitely recommend her to anyone and would return for many more treatments. "
– Manon
"I would highly recommend treatment with Marie-Lou! She is very knowledgeable, able to explain cause-and-effect for the pain I experience and suggests stretches and exercises for in between sessions. She has actually made my TMJ disorder tolerable!" 
– Bobbi
"I was very impressed with the professionalism, cleanliness, and atmosphere of Ignite Massage Therapy Clinic. The massage therapist was very knowledgeable and walked me through the process of what they were doing."
– Josh
"I recently had a hot stone massage with Marie-Lou and it was easily one of the best massages I've ever had. Three months ago I had my second child and compounded with everything happening in the world I was feeling stressed. I was having pain from head to toe and I thought it was related to about and taking care of two kids. Turns out it was tension in my body due to stress and hot stone massage was exactly what my body needed. During the treatment I could feel my stress melting away and afterwards I felt completely rejuvenated. I would highly recommended getting hot stone massage with Marie-Lou."
– Kelsie
"My jaw and neck have been in pain for 8 years due to TMJ dysfunction. I had been told that a very painful surgery was my only option to fix it, and to deal with it as long as I could. I had totally accepted that it would be uncomfortable forever. With just one TMJ treatment from Laurielle, I noticed a huge difference! Now after 6 treatments, it doesn't hurt to eat, sing, or yawn. I didn't realize how much pain I was in until it didn't hurt anymore! I am so thankful to Laurielle for suggesting this treatment, and I'm even more thankful that it worked better than I ever could've expected. Thanks Laurielle!"
– Holly
"I would highly recommend Ignite Massage Therapy to everyone. From the moment you step in the door the atmosphere makes you feel instantly relaxed! I had Marie-Lou for a prenatal massage and saying it was heaven is an understatement. Thank you for the amazing experience."
– Mikayla H.
"This is by far the most experienced and knowledgeable massage clinic I've ever been to. I've seen multiple therapists here and have had constant amazing results. They really care about making sure you get what you need treated and not just doing whatever is easiest. I don't have anything negative to say about ignite. Good job and keep up the hard work. Thank you for keeping me healthy and mobile."
– Keith
"I could not be happier with the service I receive from Laurielle and Ignite Massage Therapy.  I have seen many massage therapists before, but Laurielle was the first one that would identify the source of my chronic problems and put a plan in place to fix them.  I would recommend Laurielle to anyone looking for a massage therapist."
– Scott
"Laurielle and the team at Ignite are amazing! They truly care about you and your health, and I feel better every time I go for my monthly massage. Do yourself a favour and book a massage at Ignite."
– Paul
"Laurielle does an amazing, thorough job every time. Very knowledgable and brings it down to your level! Her massage have helped my body so much."
– Mikayla P.
"I started seeing Laurielle because of neck and back pain related to a car accident I was in. After just a few sessions I noticed a great improvement! I also work as a hairstylist and because of my chosen career I had sharp pain in my wrist going up into my forearm and Laurielle worked on both my arms as well. Even after just after the first visit the pain in my wrists significantly decreased and after just a few session it is gone completely! She has helped me be able to work to my fullest ability and continue to keep up with my busy schedule."
– Christina
"I saw Laurielle and she was the best massage therapist I've ever seen! Super knowledgeable and kind, you really could tell she knew what she was doing. Definitely would recommend!"
– Ashley
"As an active retiree that enjoys many physical activities, I have seen many massage therapists over the years for issues with my lower back and neck. I was also a frequent user of chiropractic care, but since visiting Laurielle on a monthly basis for the past year I have needed to see my chiropractor once. Her assessment skills and therapy techniques are cutting edge and progressive."
– Teddy
"I have been going to see Laurielle for a couple of years now and she is absolutely amazing at what she does! Extremely knowledgeable and it's clear she loves what she does. Any issues I've had she is able to correct in 1-2 treatments. She does not stick to the same routine as I've found other massage therapists do. She will adjust her treatment depending on what the issue is. She knows her stuff and I'd highly recommend."
– Brenda